Are you a Landlord, Management Company or Managing Agent of Residential Property in Wales?
Then Rent Smart Wales Affects You!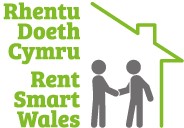 Telephone: 03000 1333444
PO Box 1106 Cardiff CF11 1UA
https://www.rentsmart.gov.wales/en
Landlords MUST:-
Register with Rent Smart Wales – this lasts for 5 years
Pay the relevant fee to Rent Smart Wales
Keep their information up to date for face penalties
Renew registration at the end of the 5 year period
In addition, any Person who undertakes Letting and Management of the rented Property MUST obtain a Licence from Rent Smart Wales.  If this is done partly by the Landlord and partly by an Agent then both must be licensed.
Joint Landlords – only one need register but both must be named on registration at Rent Smart Wales
Your Agent cannot register on your behalf. You must register.  Your Agent MUST be licensed however.  The Licensed Agent details must appear on your registration.
Time is running out to register.
PENALTIES:
If you are not registered by 23rd November 2016 you can be issued with a fixed penalty of £150 or taken to court and fined up to £1,000
If you do not keep your information up to date you can be issued with a fixed penalty notice of £150 or taken to court and fined £200
Providing false/misleading information is a significant offence and a fixed penalty notice of £250 applies and the potential court fine is unlimited
All licensed landlords and Managing Agents must comply with the Welsh Government issued Code of Practice.  To find out more please click here
If you DO NOT obtain a licence or your licence is removed then you are unable to undertake letting and/or management of rental properties in Wales.